Well, it's been about 600 days. 600 days or 14,400 hours or 864,000 minutes.
That's how long Jerry and I have been together – 24/7. I wrote a blog last year marking 365 days because that was a pretty remarkable record for me.
And here we are, 14,400 hours later, and I still think he's the PMFM – Perfect Man For Me. I am grateful every day for who he is in my life and for the life we are creating together.
Marking Time
As far back as I can remember, I was "marking time." Waiting for the next thing. Always looking forward to something else, whatever was next…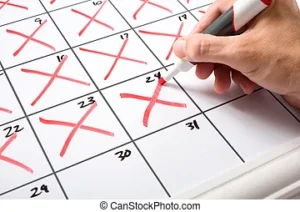 As a young kid (long before I became the "foodie" I am today,) I'd ask my mom: "When's dinner?"
She'd say: "Why are you hungry?" To which I'd usually reply: "No, I just want to get it over with because I'm going to do XXX." Then I'd be off and running with friends.
In high school, I had the best boyfriend ever while I attended a convent boarding school. I would cross the days off my calendar – marking time until I could go home for vacation and we would be together. (And no! I was not there to become a nun… In fact, when I was 15, one of my favorite nuns wanted me to consider that vocation. I simply said: "Sister, I am not into poverty or chastity!" She laughed and never asked me again!)
And then, in 1971, I met the man who would become my husband. We corresponded while he served in Viet Nam marking the days when he would come home safely.
Marking Time – Hallmark Calendars
Does anyone remember the free mini calendars at the registers at the Hallmark card stores? Every year I'd get a little calendar and enter my activities of the day. Then I had Day-Timer calendars – always marking time.
For over 25 years I had another way of marking time.  I had a New Year's Eve ritual where I would "close out the year," reviewing my calendars and summarizing all good things that happened that year in every area of my life. Then I created intentions for the upcoming year.
What Was The Point?
So, you may be asking: "What was the point of this obsessive chronicling?"
I've thought about this quite a bit.
In the beginning, it seemed like an alternative approach to keeping a diary. But as the years progressed, the ritual of doing the annual Life Wheel and Intentions became an empowering system of self-reflection and goal setting.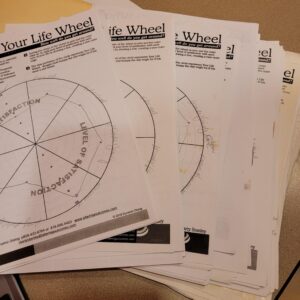 As a life coach, professional speaker and consultant on personal and organizational change, I felt compelled to "walk the talk" – personally and professionally, modelling the way for self-reflection, intention setting and goal achievement, personally and in my business.
The Raw, Unspoken Reality of Marking Time
But at a very visceral, unspoken level, as a single person with no children and solo-entrepreneur, it was my way of reassuring myself … "I have value. I make a difference," creating a testimony to my life.
Over the years, many of my clients expressed similar fears of "not being good enough" and continually trying to prove themselves as worthy of love or respect. I wasn't qualified to provide advice to resolve these deep-seated issues. However, I found that the process of "self-acknowledgment," the chronicling of accomplishments and good things that happened throughout the year, provided a proactive and empowering way to stay focused and move forward.
It also built self-confidence. Because of the act of self-acknowledgement, the person wasn't dependent on others to provide a pat-on-the-back. It also was part of the healing process for many who were in abusive or unhealthy relationships.
Marking Time – Shredded
When I moved to St. Croix in 2020, I saved the 2+ inch folder of annual Life Wheels and Intentions but shredded three decades of calendars. These days, I barely write anything in my calendar and my annual ritual of creating intentions seems insignificant and unnecessary to me now.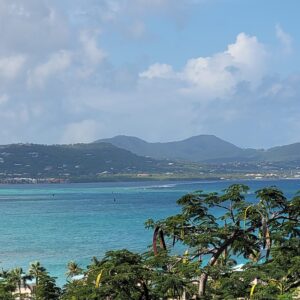 Why the change?
In the 2004 movie Shall We Dance, Susan Sarandon's character, Beverly Clark, said this:
"We need a witness to our lives. There's a billion people on the planet — I mean, what does any one life really mean? But in a marriage, you're promising to care about everything. The good things, the bad things, the terrible things, the mundane things — all of it, all of the time, every day. You're saying 'Your life will not go unnoticed because I will notice it. Your life will not go un-witnessed because I will be your witness'."
There you have it.
This quote really resonated for me after I met Jerry.
Witness To My Life
Much to my skepticism, on our second date Jerry told me that he could teach me about love. He is, and I'm still learning. It is the first time I've had a "witness to my life" where there is no judgement and I have to admit, I am still getting used to that.
After many years of judgement and criticism, I sought to feel whole and complete by myself. I was happy with my independence. The support structures I had incorporated in my life, such as my ways of "marking time" were very important to me.  They guided me to being a witness in my own life without depending on another for validation.
And now, feeling whole and complete, I was ready for and feel like I have room for someone else to fully participate in my life and we can mark time together.
Marty Stanley, you might say, is a cliché… "Living her best life," "Being who I'm meant to be," 'Dreaming as if I'll live forever; Living as if I'll die tomorrow" … and trying to inspire or motivate others to take a chance by sharing stories of personal experiences or observations of things that worked and things that didn't…
Bottom line: Put structures in place that support or empower you – and remove them when they are no longer needed.
My philosophy about change: People will keep doing the same thing until they get tired of it. Then they'll do something else.
Marty can be reached at martystanley@alteringoutcomes.com   816.695.5453  www.alteringoutcomes.com  https://www.linkedin.com/in/martystanley/