I bought this wall hanging about 4 years ago, and placed it with my pictures from Hawaii, Bora Bora, France and St. Maarten, as a reminder to never stop creating adventures in my life. It is one of the few household items I brought with me to St. Croix 2 years ago.
As Jerry and I approach the second anniversary of our first date, I've had a chance to reflect on the whirlwind of changes since then and how my life's work propelled me here.
We've heard the expression "be careful what you wish for," which is often a forewarning of unhappiness if it's achieved.
However, I was very intentional about what I "wished" for. And many of you reading this blog have attended my workshops or presentations during the past 20+ years where I've talked about the importance of:
being clear about what you want (intentions),
then aligning your TWA (Thoughts Words and Actions) with that intention
Getting out of BED (Blame Excuses and Denial) and taking accountability for your choices
Making sure your vibes (vibrational energy) are aligned to assure manifestation.
What I Wanted/Wished For
I've written several blogs about how Jerry is the perfect man for me (PMFM,) so I won't repeat and bore you ad nauseum with how he "puts me first," is a great cook, loves food and wine and makes me belly-laugh every day.
I also wanted to be with a man who is curious and wanted to travel. You see, I had subscribed to International Living Magazine for several years before we met. I day-dreamed about living in Portugal or France or spending six months traveling the world on an exclusive cruise ship. So about 45 days after we met, he said: "Want to move to St. Croix?" I said: "Sure!"
2022 – The Year of Travel
In 2021, Jerry and I designated 2022 to be a year of travel, starting with our California road trip and getting married in a hot air balloon in Sonoma.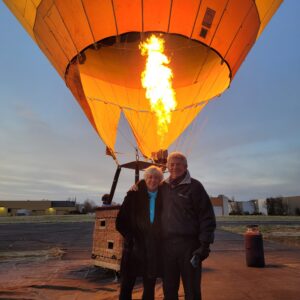 2nd of 3 Trips
In August we will be starting our next "three-in-one trip." We're starting with a week in New York City, so I can see the city through Jerry's eyes – where he grew up, some jazz clubs, a walking food tour in Greenwich Village, plus Ellis Island, the Tenement housing museum, 9/11 Memorial, + more.
Then to Paris for 5 days with several foodie excursions and street strolling before taking the high-speed train to Bordeaux. There, we'll board an 11-day food and wine river cruise.
3rd  of 3 Trips
In October we've planned a month-long food and wine excursion, driving the coasts of Spain and Portugal, staying in paradores and pousadas to experience the history and culture of each country.  It's been a blast planning these trips and I pinch myself every day, when I think about what I wanted in relationship, how I wanted to live my life and what we're doing now.
But Wait! There's More!
About two months ago, I asked Jerry if he'd consider living in Europe and he said "Sure!"
So, rather than return from France for a month before heading to Spain and Portugal, we're going to stay there. At this writing, we're not sure where we'll be, but the idea is that we'll spend 2-4 weeks (or more) in different locations for the next 9 – 12 months. We're going to rent our house in St. Croix for short term and long term rentals which will basically fund our travels. So heck, why not?
We're also looking at the "Trusted House and Pet Sitters program" as an option to see other parts of the world. I met a woman in Las Vegas 10 years ago who is now 65 and has traveled the world doing this for the past 7 years. We connected when she was in St. Croix in January after meeting 10 years ago. She said she spent 6 weeks at her condo in Denver last year and lived the rest of the year in New Zealand and the Greek Islands and other fabulous places, house and pet sitting. Her adventures inspired us.
Topics Galore
I have a feeling that the topics to share about this adventure will be expansive. Much more than a travel log. As I think about this experience, so many questions come to mind. With such a blank slate ahead of us:
How do we decide where to go and for how long?
How will we adapt to being in countries where we don't speak the language?
How will we navigate each new place?
What should I pack and how many pairs of shoes can I bring?
Will we want to plan in advance or be spontaneous?
Will it be overwhelming? Lonely? Will we get on each other's nerves?!
Will we miss the comforts of the USA or our "bubble of paradise" in St. Croix?
A recent idea is that since Jerry is celebrating a big birthday this year, (aacckk! 80!)  perhaps we'll have a theme of "Around the World in 80 days."
Another idea was to explore parts of the world by cruise ship for 3 months or more. But frankly, we ruled that out due to too many days at sea and limited time in each port.
Blog, Vlog or TikTok?
I'm making a bold assumption that people may find this adventure interesting. Writing a blog could be cumbersome. So, I explored the idea of creating a "vlog" or video YouTube Channel, with a working title of "Live Vicariously." The reality is, at this stage of my life, I'm not interested in learning the best editing and marketing practices and would want someone else to handle those details.
As luck would have it – I had an intention of communicating our adventure, aligned my thoughts and words and took action by sharing this idea with a young woman we recently met while she vacationed in STX. Turns out she works for a well-known advertising firm in NYC and she fell in love with "our story" and the idea of this adventure. She says TikTok is the way to go and when I said I had no idea how to Tik or Tok, she said she'd do it for free just for the fun of it!  So that's a possibility to help me with production and marketing.
What Do You Think?
I'm curious what you think of the idea and more specifically, what you'd like to watch or hear about. Or if you have ideas or resources to support us sharing our adventure, let's talk!
I'll look forward to your responses and will keep you posted on what's next!
Marty Stanley is a somewhat-retired life coach, speaker and consultant on personal and organizational change who walks the talk. She and Jerry are creating their next adventures. She can be reached… somewhere … by emailing martystanley@alteringoutcomes.com or texting 816.695.5453