People say change is hard.
It's even harder when you and/or your team are resisting, denying, tolerating or ignoring "the elephant in the room."
The reality is – It's not that hard to do – when you know what you're doing.
That's what I do.
Success Formula
I share the success formula with organizational leaders and their teams to create their ideal culture, systems and processes, so they won't need me to help them – forever.
There's nothing worse than being dependent on a consultant who is an expert at scope creep.
The success formula empowers the leader and their teams with knowledge, tools, skills and resources, so that it can be re-generating and sustainable.
Whether you're at the point of despair and feel like there's no hope, you've inherited a mess, or you want to take a preventive and proactive approach to leading and managing your team, you need a trusted partner in the process. You need someone who doesn't have a vested interest in the outcome – other than your success and the success of your team and organization.
It's all done through highly interactive training, rigorous coaching and expert facilitation.
Clients own the process and define success for their culture and results.
Brilliant.
As a human resource executive for 20 years  and more than 15 years as an organizational change consultant,  I have been senior leaders' strategic partner in planning, communicating and implementing change.  Together, we create collaborative visions that inspire people to participate in changes that lead to personal and organizational  success.  Industries have ranged from engineering and law firms to health care to mortgage banking, manufacturing, and academia, not-for-profits and associations of all kinds.
My clients benefit from my experience in working with such diverse industries. It's amazing how health care organizations have learned from and applied concepts and experiences from engineers and lawyers have learned from commercial plumbing and bankers from public works.
While each consulting engagement is tailored to the needs of the client, a typical consulting engagement typically includes one or more of the following types of services:
"Marty's insight and expertise in working with co-workers' different styles of communication and interaction helped us all to understand each other and value others' contribution to the company as a whole. She's a gem for any organization, small or large.

Marty motivated us with her "Get Out of B.E.D." program, before we launched into teambuilding. Her program laid the groundwork for the information to come. By the end of the sessions, we had a clearer understanding of each other's strengths and weaknesses leading to a higher level of commitment to the company and to one another.

Marty is an amazing facilitator; patient and compassionate but able to keep things moving forward in a timely but relaxed manner. And, she's the type of person, after a long day facilitating, you still want to go out with her for a beer!"

Jim Masterson and Conley Wright
President and Chief Operating Officer
Masterson Equine Services
Strategic Planning
Strategic Planning used to be a laborious process that projected plans for 5 – 10 years. Now, due to changing regulations, changing demographics of employees and customers and changing technology, most organizations I work with plan the for the next 12 to 18 months. We create solid action and implementation plans, assigned accountabilities and benchmarks. This approach provides flexibility for adapting to changing conditions as well as increases the likelihood of actually following through on plans. (Translation: no 3 ringed binders to collect dust on the shelf.)
Creating a New Vision
Sometimes, an organization wants to clarify its vision and/or reinvent itself, due to changing market conditions, changes in leadership, changes in products and services or simply because the old "vision" no longer works.
While facilitation of this process can take place as a "stand-alone" retreat or visioning session, most organizations like to start with the vision and work through strategic implementation plans at the same time.
Depending on the size of the organization and scope of the planning, most plans can be developed in a couple days of brainstorming and action planning.
Corporate Culture
Studies have shown that organizations that are intentional about their corporate culture usually have higher profits, higher productivity and more loyal customers.
It starts with aligning Human Resource and Operational policies and practices with the vision, mission and core values.
Don't have core values? No problem! I can help you create the values that will work for you and your organization that will energize the team and start to shift the culture.
Since I don't use a "cookie cutter" process to help you shift or enhance your culture, it's best to have a conversation about goals and objectives so we can determine some options that will provide the best results for you.
It is a longer term process, that may take 6 – 12 months or more and includes a variety of tools such as surveys, training, group team building and facilitation. The first months are more intensive to gain momentum and to build skills internally so the process is regenerating and sustainable, whether I am there or not.
Human Resource Department Consulting
If you think of your HR department as a "necessary evil" or like going to the principal's office, you're missing out on a big opportunity. Some HR people get bogged down in the "administrivia" of paperwork and are disconnected to the lifeblood of the organization. Or maybe the environment or culture of the organization has prevented HR from being a valued resource.
Whatever the case, I can help organizational leaders by taking a look at what's going well and what's not, providing recommendations for improvements and coaching the HR team. The goal is to put the programs, processes and services in place to meet the needs of the organization as well as comply with government or industry regulations.
If you lie awake at night and worry about dealing with HR issues, give me a call at 816-695-5453 or contact me.
Team Building
Do any of these sound familiar?
Your team has a bunch of "lone rangers" who want to do their own thing?
You have snarky, toxic people who sabotage anything in sight.
You have four generations at work who all want to do things their way.
I think the best way to build a team is with real issues and real projects. So if you want ropes courses or a culinary cook-off to build your team, I'm not your gal … unless you're running a gym or a restaurant.
There are lots of ways to build a team, so give me a call and we can discuss the best way to solve the problems, within your time frame and budget.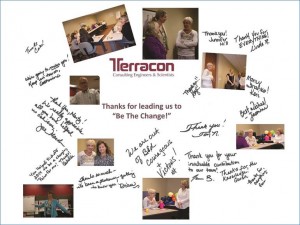 (click to view full size image)
Change Management
Many organizations are looking for a comprehensive change process to create a culture of accountability and high performance. This is a long term process that it is best done by using a "building–block approach" that provides awareness, education, policy and process review and reinforcement for empowerment and sustainability.
Awareness
Before true change can take place, people need to be an aware that change is needed and why. Think of this assessment as a mini-SWOT analysis that looks at the internal/organizational environment and the external/industry or community environments. Components of the assessment include:
awareness and impact of current environments
identification of future environments and the gaps between current and future
commitment to creating and implementing plans to be successful in the future environments.
Following the assessment, there is a leadership planning and team building retreat to review the assessment results and develop action plans for alignment to future environment. Depending on size and scope, generally, retreats range from a half-day session to 2 full-day sessions.
For more information about consulting programs, give me a call at 816-695-5453 or contact me to schedule a time that is convenient for you.