When it comes to consulting, coaching, and training, it seems like everyone has a different definition. If you were to ask 10 different consultants to define these, you would likely get 10 different answers. The chart below illustrates the "typical approach" and Marty's approach.
| | | |
| --- | --- | --- |
| | Typical Approach | Marty's Approach |
| Coaching | Telling you what you should be doing, informing you about best practices | Socratic method – asking questions to help you arrive at the best approach that will work for you and that you're committed to; identify personal barriers to success and develop strategies to overcome |
| Consulting | Do it for you; tell you what to do | Collaborative; participative; Marty guides the process and client owns the process and accountabilities. |
| Training | Tell participants what to do; Lectures. | Participative; Interactive, provides real life examples and actionable items; creates accountability for implementing concepts. |
As you can see, the "typical approaches" tell more than listen. Marty's approach is to listen and ask questions first, to help you reach your objectives.
The problem with typical approaches is they are focusing on the delivery from the consultants point of view rather than focusing on the best way to help you achieve your objectives.
Most organizational issues are complex and often require a combination of consultation, coaching and training to arrive at a solution.
Here is an overview the approach I use when working with my clients.
A Collaborative Approach
I will work with you and your team using an approach that emphasizes collaboration and alignment to intended outcomes throughout the engagement. This collaborative approach consists of 5 phases: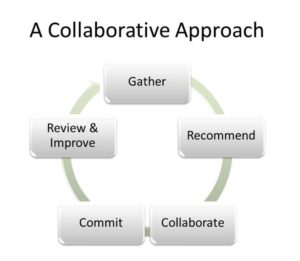 Gather Information
During this stage, we identify needs, issues, what's going well, what's not, your desired outcomes. It's a time of gathering information to determine the "current state," the "future state" and the gaps in between.
Make Recommendations
Based on the information gathered, the next step is to offer ideas, options, and ways to achieve desired outcomes. Depending on the complexity of the project, there may be surveys, team building, training and/or facilitated discussions to help you reach your goals.
Collaboration and Commitment to Success:
At this point, we collaborate on the approaches that will best meet your needs, your time frame and your budget.  We review roles and accountabilities and benchmarks for success.
Review & Improve
Throughout the process, we will collaborate to be sure there is alignment to the intended outcomes and commitment to success.
Give me a call at 816-695-5453 or contact me to schedule a time that is convenient for you.