From Type A to Type T:
How to Be a Transformational Leader in a Bottom-Line World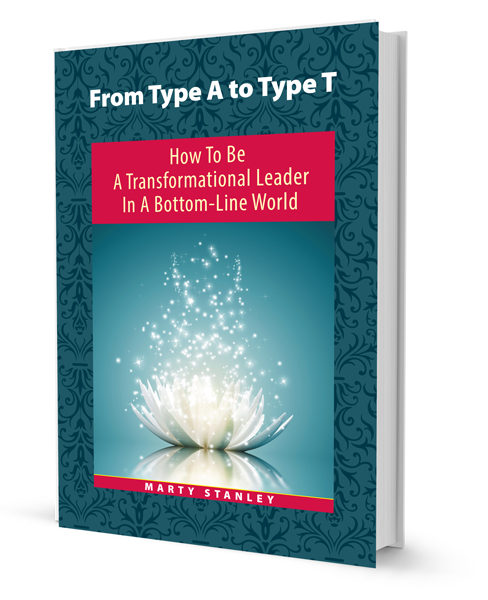 About the Book
Are you yearning for ways to make a difference and feel more fulfilled? Do you feel like something's missing in your life but don't know what it is?
From Type A to Type T provides an in-depth guide to making changes personally and professionally.  You'll discover:
Why the traditional "Type A" style of management (command and control, authoritative and ego-centric) won't work in the future and why the "Type T" style (Transformational, empowering, strategic, collaborative and long-term thinking), is needed to be successful in the future.
How to integrate body, mind and spirit to enhance personal leadership
How to create a future vision and action steps for personal and organizational change
Practical steps to create healthy, empowering and collaborative families, communities and workplaces
Successful organizational leaders must know how to navigate personal change and transformation before they can, in turn, transform the organizations and people they lead.
Marty's book is designed to guide you on your journey through every step of the process to finding fulfillment and making a difference in your world.
Are you ready?
Be the change.
About Marty Stanley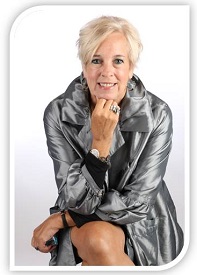 Marty knows about change,  transformation, creating a vision and fulfilling it. From minimum wage worker to corporate executive, she's always had her sites on something bigger.
During her 20 years as a human resource executive, she led initiatives to meet changing conditions at several diverse national and international companies and created one of the top 25 corporate wellness programs in the country.
Then, 17 years ago, Marty started her own business, Dynamic Dialog, Inc. and is a highly successful solo entrepreneur as a national speaker, author and consultant on personal and organizational change. She has facilitated change in organizations ranging from hospitals, law practices, municipal public works, realty associations, engineering firms, commercial plumbing, artisan bakeries and mortgage industries.
On a personal level, Marty knows how to create and manifest intentions.  In 1991, she moved from Green Bay, Wisconsin to Kansas City, MO – without a job and didn't know anyone there – all before the Internet! 25 years later after successfully integrating and contributing to corporate, entrepreneurial and not-for-profit communities, Marty set her intentions to live on the water again.  In October, 2016, she realized her dream by moving to La Jolla, California! (See blogs for more details!)
Here are a few of her professional accomplishments:
2000- 2007 National Association of Women Business Owners (NAWBO)–Kansas City Chapter ; President – 2003-2004
2005 Women Who Mean Business Award – Kansas City Business Journal
2006  Get Out of B.E.D. (Blame, Excuses and Denial): Change Your Outlook – Alter Your Outcomes published. Marty started expanding her speaking business nationally.
2005 – 2012 Kansas City Chamber of Commerce Top 100 Small Business Celebration
2009  qualified to become a member of the National Speakers Association (NSA)
2010 Woman of the Year – Women's Center for Health and Wellness
2009 – 2013 Board member National Speakers Association – Kansas City – a 5-state regional chapter;
2010 Member of the Year; President 2012-2013
2013-2016 National Speakers Association – Chapter Leadership Committee. This committee, comprised of 20 national and international speakers,  provides leadership training and coaching to NSA chapter leaders in the United States, Canada and Australia.
2015 From Type A to Type T: How to Be a Transformational Leader in a Bottom-Line World published by Balboa Press, a division of Hay House Publications.
2015 Appointed by the NSA Board of Directors to be the Chair-Elect of the Chapter Leadership
Committee
2015 Earned Certified Speaking Professional (CSP) designation – the highest earned designation for
professional speakers. Fewer than 800 people in the world have earned this designation.
2016 STAR Award- Kansas City Society of Association Executives
2016 Chair of National Speaker Association Chapter Leadership Committee
2017 Immediate Past Chair of National Speakers Association Chapter Leadership Committee
2017 C0-Chair Membership Committee Women in Business – San Diego
Order Your Books Today!
Call Marty to speak about Type T Leadership