365 days ago my life changed dramatically.
After 35 years of being a single, corporate executive and business owner, I entered into the biggest merger of my life.
First – Divest
To do that, I had to divest myself of almost all my physical assets: furnishings, crystal, furs, artwork and even my coffee maker, to start a new life "off shore" in the Virgin Islands with the man who made me an offer I couldn't refuse.
At that point 365 days ago, I committed myself to spend 24 hours a day, 7 days a week with … OMG… the same person… who by the way, I'd only known for 100 days… Away from all friends and family and move to an island that at times seems like a third world country.
Holy cow. For years I couldn't fathom the idea of spending 24/7 anything with anyone. In fact, many years ago, I admitted to a former boyfriend that I found being with him for 24 hours for ONE DAY to be challenging. (For some reason, we stopped dating shortly after that…)
Until Jerry.
Second – Invest 
So what was "the offer I couldn't refuse," you ask?
On our first date I asked him what made his marriage so successful. Widowed only two years, I learned that this was his first date in 45 years. As his eyes welled up, he explained that he and his wife had always put the other person and their marriage first. This concept was totally foreign to me. It was like he was speaking a different language. He found it equally odd that I was mystified by the concept.
On our second date, a week later, he told me, in a very nurturing way, that he could teach me a lot.  Instinctively, my independent, feminist reaction was "oh reeeeaallly?"
He then whispered in my ear: I can teach you about love.
Case closed. I was hooked.
I was ready to invest in love.
Attached At The Hip
So, what has it been like to be attached at the hip 24/7/365?
Honestly, it's been pretty easy.
I think there are several factors that have made it feel effortless, most of the time.
One is that we have a shared vision of the life and lifestyle we want to live – everything from living on St. Croix, to how our house was renovated, decorated and maintained to our wellness, fitness and financial goals and how we want to spend our time, individually and together. We are very simpatico with our likes and preferences, as well as the things we want to avoid.
Points Of Contention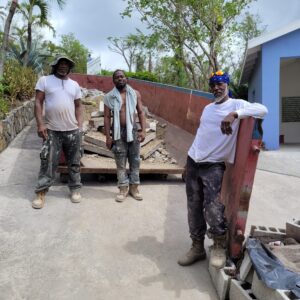 Many people say that building or remodeling a home will test most relationships. And there certainly were periodic points of contention during the home renovation when I thought I might explode! While the guys were fabulous people and hard workers, there were between 1 and 15 people working on something almost every single day for 8 months, starting at 8am. Plus, we were without a kitchen four of those months.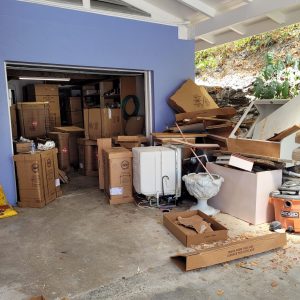 On those occasions when the disruption and chaos got to me and I had no patience left, Jerry listened with love and reminded me of our shared vision… It also helped that he'd surprise me with new jewelry hidden around the house!  There's something to be said for finding a beautifully wrapped bracelet inside a box of Triscuits or a lovely necklace in the refrigerator!
The Depths And Despair Of Love
But there's another factor, perhaps more important, that has made it relatively easy to go from an independent, solo life, to an inter-dependent partnership. Jerry is, indeed, teaching me about love in ways I've never experienced – how to give it and how to receive it.
While he and his wife had 45 years to grow together, that love was tested and strengthened for the last 10 – 15 years as her battle with Alzheimer's progressed. He has said that as each stage advanced, he felt increased love and compassion for her. To support him in his commitment to her at-home care and wellbeing, eventually he had three full time nurses, one of whom still calls him weekly to see how he's doing.
Jerry understands the depths and despair of love. And I am grateful to be the beneficiary of that, every day – 24/7/365.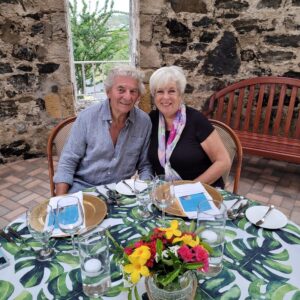 First Date Anniversary Dinner June 9, 2021
Marty Stanley is an author, national speaker and executive coach on rejuvenation, reinvention and revitalization. She helps people and organizations redefine and re-align goals and measures of success in this post-pandemic world.
She currently has two openings for executive coaching clients. If you're ready to up your game or re-brand your life, contact Marty today: 816.695.5453 or martystanley@alteringoutcomes.com