New Zealand green lip mussels, a French baguette, pears and artisan cheeses and a great Sauvignon Blanc on the bistro tonight. Listening to Etta James, Sade and Anita Baker. This is heaven.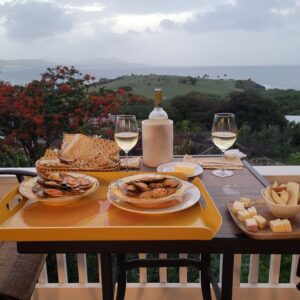 What are your thoughts when you see this image and read the description?
Does this look like a travel photo that makes you long for a romantic getaway?
Do you love the idea of "exotic" or fancy foods from New Zealand, France and Italy?
Or does the choice of music stir your soul?
Maybe it's the emotions connected to all the sensations of the sights, sounds, smells and tastes that you imagine.
What would you say if I told you this is a fairly typical dinner that Jerry and I have several times a week?
Living the Dream?
Some comments on this FaceBook post referenced "living the dream" or expressed a little good-hearted envy.
And the reactions got me thinking, because the reality is, this type of dinner really is available to just about anyone who wants it. Sure, the Caribbean view may not be, but there are a lot of alternatives.
So why do people not create this kind of experience for themselves?
Get Out of B.E.D.
I'm here to help you get out of B.E.D. (Blame, Excuses and Denial) and debunk any excuse you may have for not creating your own romantic or memorable dinner.
Fancy and Fussy
Really? Frozen mussels and frozen baguette from the grocery store. A fresh pear and a package of three kinds of cheeses. I used a carton of roasted tomato soup with some extra cream and white wine for the sauce. If I can find these items on St. Croix, you can certainly find something like it at Costco.
Time
"I don't have time to do something like that."
This dinner took me less than 45 minutes from start to finish. While the mussels were thawing, I sliced the pears and cheese and prepared the frozen baguette, heated the soup and opened the wine. The mussels took less than 5 minutes. Bing, bang, done.
Environment
I think it's safe to say everyone has a place in their home that could be special. A patio, deck or porch? Poolside or fireplace?  It's amazing what pretty placemats and napkins and a candle or two can do to add ambiance.
Music
Soft and soothing, maybe a little sultry, depending on the mood you want to create. Don't have a big collection of music? Check your cable channel for music stations. Many have 100 channels of uninterrupted music. The "Love" or "Spa" music stations can create a nice setting.
We've been married too long … Or … I have kids
Think your spouse or partner or kids won't like it? Rubbish.  Pick a day that won't be rushed and let them know in advance that you have something planned that will be different and relaxing or fun. I would avoid using the term "special;" but "different and relaxing or fun " will set the tone. Unless you pick foods or music they don't like, it may prove to be a nice change of pace for all of you.
Since the pandemic, I have friends whose kids have experimented with cooking, baking and trying international recipes. It's a great way to slow down, spend time together and expand their palates, knowledge of other cultures and refine their table manners all at the same time. You can't do that with Popeye's chicken or McDonalds.
Bottom line? Why not? What do you have to lose?
I live alone.
So what? You have to eat, don't you?
Take it from a woman who had many meals of popcorn and wine in front of the TV or happy hour appetizers with friends, before I met Jerry. But even then, I made it a point to make healthy and attractive meals at least one or two times a week. Jerry, having been a high-end caterer, continued to make what I call "fancy meals" almost every night for two years after his wife passed away, and still does today.
So, why not pull out the nice wine or iced tea glasses and use the "good plates" and a cloth napkins? As my mother used to say: "Who are you saving them for? Who's any better than you are?"
Still don't want to go to the fuss to eat alone? You may want to take a look at why. What's preventing you from treating yourself to something special?
I know what it's like to feel a little pitiful about it all, so keep practicing. And in the meantime, invite a friend over to share the experience. Or, if you want to be socially distanced, share you meal with friends on Zoom!
Nourishment, Nurturing and Sustenance
The point is, why go through the motions, unconscious to all that give us sustenance?
What can be more nurturing than preparing a visually attractive and healthy meal for yourself and/or people you care about?
With all the horrid news: COVID surges, world-wide crises and rampant and random nastiness between people, perhaps it's time to practice self-respect through food and how we nourish ourselves.
Who deserves nourishment, nurturing and a touch of elegance more than you and your loved ones?
Marty Stanley is national speaker, author and life and professional development coach. She specializes in helping people create the work and life they love and set goals, milestones and rewards to achieving them. If you're ready to Get Out of B.E.D. and live your dream, give Marty a call 816.695.5453 or email martystanley@alteringoutcomes.com  
P.S. On a personal note: Marty is an avid foodie, working to eliminate the "pandemic 15+" (pounds). She's taking ownership and accountability for her indulgences by hiring her own fitness and nutrition coach to be her accountability partner.  She walks the talk… Stay tuned!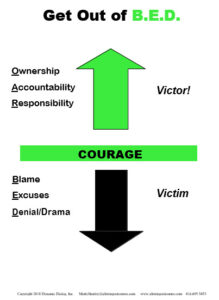 Curious about how two old people fell in love during a pandemic and moved to a tropical island? Check out these blogs for more behind-the-scenes thoughts and experiences:
https://alteringoutcomes.com/reinvention-from-independence-to-inter-dependence/
https://alteringoutcomes.com/courage-hope-and-decisive-action-the-building-blocks-of-a-new-chapter/
https://alteringoutcomes.com/pandemic-love-q-a/
https://alteringoutcomes.com/the-silver-bullet-put-the-other-person-first/
https://alteringoutcomes.com/random-thoughts-on-settling-and-having-hope/