My last blog was about preparing to walk parts of the Camino in Spain and the importance of having a dream and acting on it.
Once I became clear that I would never make the 500 mile journey with a 40 pound pack on my back, I found a different way to fulfill my dream. My Camino adventure with Road Scholar met all my needs and expectations based on my capacity, interests and goals.
Here are some random thoughts on the experience:
On An All-Women Group
We were an all-women group between the ages of 59-79. Several women in their mid 70's led the pack on the trail. Yes, they were fit and in good shape… but I will say, they were at least 3-4 inches taller than the rest of us and had very long legs! That's my story and I'm sticking with it!
19 women for 14 days: no drama; no upsets and we never had to wait for anyone.
We bonded quickly and laughed A LOT!
There was no competition – like who could climb that hill the fastest or get there first. Instead, there was steady support and encouragement, especially on the steep inclines and challenging descents.
Each woman had her own "thoughts to ponder" while on the trail. A couple were on their first trip since their husbands had died. Three were recently retired and thinking about "what's next." Others who were married for 40 or 50 years were looking to restoring love when they returned.  One of the women took a picture of some crocus on the side of the trail and sent a virtual bouquet to her husband with a love note.  How beautiful is that?
While some of the women traveled with friends, we all mixed and mingled effortlessly while on the trail or when seated at meals.
It was like a microcosm of "what could be."
On Being in a Bubble
For 14 days I was relatively media free – especially since TV and newspapers were in Spanish. As a news junkie, I did get an electronic newsletter each day, which kept me somewhat informed. But frankly I didn't care.
We were immersed in history, art, architecture, agriculture and traditions of the past. I still don't know the difference between Roman, Romanesque, Gothic or Baroque, but all of it was beautiful and inspiring… and there was no test at the end.
As we walked the trail, we could sense or feel connected to our ancestors and to the thousands of pilgrims who preceded us over 2000 years. St. Francis of Assisi walked this trail.
We were transported and suspended in time.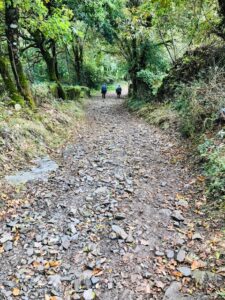 On Travel and Taking a Trip
One of the benefits of this particular trip for me was that Road Scholar made all the arrangements and I did not have to make any decisions, which was a nice change of pace for me.
We stayed at hotels that were unique to the region and ate at local restaurants with all regional foods and wines. Meals of 3 – 7 courses were pre-arranged based on the local specialties and they were impeccable at accommodating every food preference and requirement, without fuss or fanfare. Whether it was oxen or octopus, we sampled it all.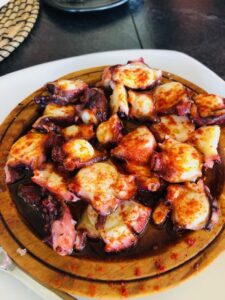 Upon returning, my sister sent me a great article with Anthony Bourdain's wisdom about travel. While this particular trip met all my expectations, I love his thoughts about travelling with spontaneity and being open to all possibilities and connections.
I remember hearing a keynote speaker many years ago who said: "if you don't know what to do with your life, take a trip."  I was at a cross-roads in my life and happened to be at a convention at the Grand Ol' Opry with 500 women for NAWBO (National Association of Women Business Owners) – not exactly my idea of a great trip – but there I was. So I created the intention that by the end of my trip I would have clarity about what to do in my life… and I did!
I'll spare you the details, but what I can tell you is this:
A trip can be anywhere and any place.  It does not have to be someplace exotic or distant. You could be a tourist in your own town. It's a state of mind. It's about finding adventure in the simple things. Be open to new ideas and places. Get off the couch! Try new things. Meet new people. Take the bus!  Be curious.
As Bourdain says, it's not always pretty or easy.
But if you're open to random acts of kindness you never know what wonderful things can happen!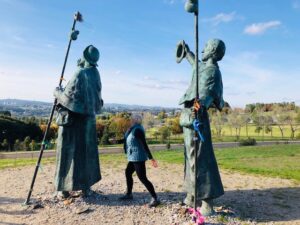 Marty Stanley, CSP, is a national speaker, author and coach. If you need help generating more adventure in your life or creativity at work, give Marty a call. 816-695-5453 or 858-432-6764. www.alteringoutcomes.com     martystanley@alteringoutcomes.com