Yes! It's true.
It's been 3 years since I uprooted my life after 20+ years in Kansas City to move to Southern California and a year since my last update on "living the dream."
The past 18 months have been jam-packed with wide ranging experiences and a stark contrast to my first 18 months here. I am clear that my current trajectory would not have been possible, had I not experienced the simplicity and relative isolation of my first year and a half here. But rather than re-hash that you can read previous blogs, if you're really interested!
There are so many things I'd like to tell you about this transition, this reinvention. When I started writing this blog, it was hard to focus on one theme until I landed on "my commitment to the world," that I wrote about a couple months ago, which, that too, has since been revised several times!
So here goes.
My commitment to the world harkens back to a possibility I created in 1996 when I did Landmark Education's Advance Course, in which I stated that I wanted to "empower millions of people to live their dream." And from that statement, 4 years later, I created and started my current business and have been on that path for the past 20 years.
And I now realize that my commitment to the world continues to be that people live their dreams.
So my hope is that in sharing my experiences of "living my dream" to live in SoCal, that you will see possibilities for yourself and have the courage to take action toward your dream.
Step One – Dream
Take off your blinders.
What are your excuses for not taking action toward something you want?
Whose life are you living?  Yours? Your spouse's? Your parent's? Your kids or grandkids? I know plenty of people who are committed to their partner, their kids and families AND have a life of their own that is fulfilling and unique to them, their interests and skills and passions.
How often do you have a glimpse of a dream only to come up with all the "reasons" it won't work or seems unreasonable, or unattainable?
Just know that none of them are true.
Step Two – What do you want?
What does your heart yearn for? What would fill your soul?
My stated reason for moving to SoCal was that I wanted to live on the water again. At first people felt compelled to tell me that it's very expensive to live here and that I was moving to "the land of fruits and nuts," (insinuating that people here are weird and kooky.)
To which I responded: "I don't care. And yes, I'm a fruit and a nut too."
Once I became more acclimated to my new surroundings, I realized there are so many more reasons that resonate for me than living on the water. Yes, walking the beach several times a week fills my soul and is a source of comfort and inspiration. Each day I see and meet people in their 60's, 70's and 80's surfing, snorkeling and scuba diving. There's a level of vitality that I cherish. People are active, engaged and living life. Biking, hiking, volunteering, and yes, protesting!
I am more aligned with the progressive thinking and legislation here than when I was living in a Red-state in the Bible belt. I love that I live in a state that cares about climate change, education and future generations, environmental protection, income inequality and that values immigrants and their contributions to our communities. Some people unsubscribed after they read a recent blog because they said they were "offended by my progressive views," which I thought was an interesting choice of words. Frankly, I was proud to have rustled their feathers. I wasn't looking for agreement. I was hoping to get people to think about their values and priorities.
When we are at peace with our values and priorities, we feel at home; congruent and aligned.
Are you at peace with your values and priorities? Do you feel whole in your heart and spirit? Are you aligned and congruent in your communities? Are you confident being self-expressed about your values and priorities without concern for being judged or criticized?
When we are at peace with our values and priorities, we aren't offended or threatened by others' viewpoints.
Step Three – Have Courage – Take a Risk
I'll admit that I am one of those people who can make lemonade out of lemons. I also know that I can convince people that I have made wonderful lemonade even when the lemons are rotten. And I am also reluctant to let people know when the chips are down.
That said, I will say that the move here was not easy. Yet, I have never regretted making the move. Not once.
So for those of you who are thinking: "yeah, but it's easier for you to do it because"  … or "yeah, but you don't understand. I have to (fill in the blank)…" Or whatever your reasons or excuses are why it was easy for me and hard for you…. Just remember the famous Wayne Gretzgy quote (or Michael Scott's quote if you don't know who Wayne Gretzgy is…):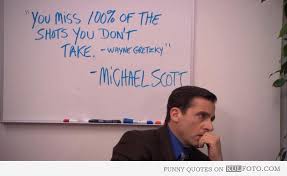 For the people who have commented that they're living vicariously through me, I say this: Stop it!  Live your own life!
For those who think that "I'm lucky" to follow my heart, I say this: I have taken a lot of risks and made a lot of sacrifices and made a lot of deliberate choices that were not always easy or even good. A lot of other people wouldn't make those choices because they'd be afraid of the outcome or feared the reaction of others. But I trusted myself and my resilience, even if others didn't.
What would happen if you took a calculated risk? Or trusted yourself and your resilience?
Living As A Created Self
Finally, I have a weekly conversation with people around the world about how we are "living as a created self" as it relates to our commitments to the world. The essence of this conversation is that not only are we creating ourselves to fulfill our commitments, but that we are also carving out a pathway for the future and that pathway is for everyone – not just me.
So my commitment is that YOU get to live YOUR dreams. By creating myself to live my dreams and sharing them with you, that hopefully, I am able to provide a pathway for you to dream and have courage to take action to live your dreams.
Who would you create yourself to be to live your dream?
What would that look like?
Marty Stanley is a Certified Speaking Professional, author and calculated risk taker who aspires to empower people to live their dreams. For more information about Marty as a speaker, consultant or coach, call 816.695.5453 or visit www.alteringoutcomes.com or send a note to martystanley@alteringoutcomes.com  https://www.linkedin.com/in/martystanley
NOTE: Be on the lookout: I am going to start a series of short YouTube videos on lifestyle issues and topics, similar to my blogs, but short videos. What do you think?
I'd love to hear your feedback about this blog and my idea about a video series:
https://alteringoutcomes.com/living-the-dream-3-years-later/#respond
Reflections on Reinvention – 12 Months Later
Living the Dream – 9 Months Later
Living the Dream – 6 Months Later
Living the Dream – 3 Months Later