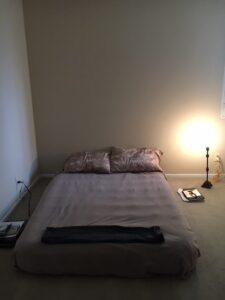 My last blog in August described that I was about to embark on a personal and professional transformation – moving from Kansas City, MO after 25 years to La Jolla, CA – simply because  … I wanted to … and I can. You can read that blog post here.
Based on reader response to a survey, people wanted to know mostly about the personal side of the change, about every 2 weeks, mostly in written form with some videos.
So here I am about 6 weeks later!  And I've crafted about 6 segments of the process that will be rolled out over the upcoming weeks.
Fasten your seat belts, prepare for the journey and enjoy the ride!
Just because it's the right thing doesn't mean it's easy
Right now, I'm sitting with a glass of wine, on a somewhat mildew-y, blow up mattress, with a dim light bulb illuminating my room in my new condo in La Jolla. This is day 3 of Living Your Dream! Furniture will arrive in 2 more days. Internet connection and cable TV will happen in 3 days. In the meantime, I'm chewing up data on my cell phone to the tune of overages of almost $100 a day unless I camp out at the Verizon store or Starbucks, or someplace else with free Wi-Fi!  Or God-forbid, go without – resorting to an actual book or silence.
During the past several weeks, I've noticed that my hair is falling out, my blood pressure is pretty high and I've started drinking coffee again and eating biscuits and gravy. I'm awake from 2am – 4:30am, hoping to fall asleep, but thinking about packing boxes. A friend described me as a "pinball," kind of bouncing from one place to another – not sure of what to do next. I realized I was exhausted when I got up at 5am to pack boxes, showered then dressed to go deliver a 2 hour training session, but put on my nightgown, instead of my "office clothes!"
Welcome to the disruption and chaos of Living Your Dream!
Just because you're pursuing your dream doesn't mean it's always pretty or easy. It's filled with unavoidable disruption and chaos.
And at the same time, my realtor, friends, family, colleagues and social media "voyeurs" have all acknowledged that the process, since mid-July, when I put my house up for sale and decided to move, has been remarkably free of drama and upset.
People have commented that my journey has been "inspirational," "courageous," and that they're "living vicariously through me."
That's all well and good.
But here's the deal.
I coach people, speak about and facilitate personal and organizational change. I espouse being clear about what you want, creating intentions, with no blame or excuses… to get the results you want.
It's imperative that I put into action everything that I speak about and all that I expect of my clients.
My clients entrust me with their lives and their organizations.  If I don't practice, full out, no holds barred, what I want them to do, there's no integrity in the process.
A mentor early in my career told me: don't ask people to do anything that you aren't willing or haven't done yourself.
So throughout this process, I have created intentions about what I wanted. And I've done my best to take ownership and responsibility for my thoughts, words and actions and align with those my intentions.
The Smooth Move
The overarching intention was called "The Smooth Move." It encompassed preparing my  house in KC for sale, finding the right buyer, the inspection, closing, selling my furniture and garage sale, packing and moving. It included a trial visit to my desired new location, finding the right and perfect place for me in La Jolla and a 1600 mile road trip, alone. It included seeing this process as an adventure, an opportunity for self expression and fun.
In the upcoming blogs, I'll be sharing the process of "The Smooth Move," the mechanics of the process, what happened and the raw and vulnerable reactions to it.
I welcome any questions or comments in advance, or after reading the blogs.  I see this as an opportunity for anyone contemplating a change, to help you with your own "smooth move!"
Marty Stanley, CSP, is a national speaker, author, entrepreneur and recovering HR executive. She helps people plan, manage, implement and deal with change – personally, professionally and organizationally.    martystanley@alteringoutcomes.com  www.alteringoutcomes.com  816-695-5453.
For more information on being a Type T leader, watch this 1 minute video.
Or order the book on How to Be a Transformational Leader in a Bottom-Line World.