We hear a lot about being tough, being strong, doubling down and standing your ground.  With all this tough talk, I began to wonder about "courage" and if courage is a thing of the past.
And then Senator John McCain and Aretha Franklin both passed away about a week apart. Their funeral services coincided and while dramatically different, provided good reminders of people who demonstrated inclusiveness, diversity and most of all – courage.
Wikipedia defines courage as: the choice and willingness to confront agony, pain, danger uncertainty, or intimidation. Physical courage is bravery in the face of physical pain, hardship, death or threat of death, while moral courage is the ability to act rightly the face of popular opposition, shame, scandal, discouragement, or personal loss.
John and Aretha
The son and grandson of four-star United States Navy admirals, McCain was a Viet Nam prisoner of war for five and a half years. He exemplified physical and moral courage by declining an early release from physical torture and solitary confinement because he knew there were other POWs who were eligible for release before him. During his subsequent career in Congress and as a failed presidential candidate, McCain, who frequently said he was a flawed human being who made many mistakes, demonstrated moral courage as he made choices in the face of opposition by his fellow Republican leaders.
Franklin's upbringing couldn't have been more different than McCain. Her mother died when she was 10 and she had her first child at age 12 and second at age 14. This high school dropout who became the Queen of Soul, toured with Dr. Martin Luther King advocating civil rights at the age of 16 and sang at his funeral and later sang at Barack Obama's inauguration in 2009.
Both McCain and Franklin had amazing courage and faith to live the lives they led.  Their courage and convictions made a difference in the lives of millions of people.
They could have chosen otherwise, and people would have understood that life was tough. They had some bad things happen. Throughout the adversity in their lives, they demonstrated physical and moral courage.
How many of us would have done the same?
Many people have heard my Get Out of B.E.D.© presentation and are familiar with this graphic: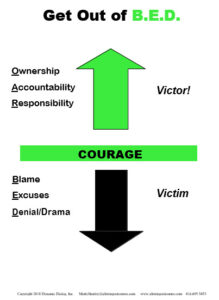 A Tangled Web of Blame and Excuses
It takes courage to take ownership and accountability for our choices.
It doesn't take courage to blame or make excuses.
I suppose it can be a natural reaction to blame or make excuses when we want to control the outcomes of certain situations or circumstances. But the reality is that when we blame and make excuses, we become victims of the very people or circumstances that we fear or want to control the most.
It can become a very tangled web the more we blame, make excuses or are in denial. It takes a tremendous amount of energy to keep those excuses alive and present… All in an effort to be in control, to appear strong, or to be "right."
Is it worth it?
There are multiple studies that show the impact of negative emotions on a person's health. One of my favorite resources in this area is David Hawkins, M.D., Ph.D., who conducted a 20 year-study on the impact of emotions and consciousness, when he was the Director of The Institute of Advanced Theoretical Research. While the research is complex and a bit overwhelming, as documented in his book Power vs Force – The Hidden Determinants of Human Behavior, his study revealed the impact of emotions on the mind and body. (Here is a brief summary of this work.)
Most notably, courage was the dividing point between negative emotions and positive emotions. The negative emotions such as shame, guilt, apathy, and fear can lead to inertia, which in turn can eventually impact a person's ability to fight illness or disease. Conversely, emotions such as willingness, love, joy and gratitude can lead to greater happiness and productivity and less stress, which can lead to better health.
So, it comes down to choice.
Do you choose love or fear?  Hate or joy? Forgiveness or guilt?
Do you choose to own your emotions and choices or blame others?
Having physical and moral courage can make all the difference.
Will You Join Me?
Will you join me by demonstrating courage by taking ownership and accountability for your thoughts, words and actions?
Together, we will make the world a better place … and we'll be healthier too!
Marty Stanley, CSP, is a national speaker, author and consultant on personal and organizational change. Like most people, Marty sometimes struggles to take ownership and accountability for her choices… especially when it comes to going to the gym rather than laying on the couch with a plate of nachos. If you're interested in creating a winning a culture of accountability, contact Marty: 816-695-5453 martystanley@alteringoutcomes.com www.alteringoutcomes.com
Connect with Marty on Linked-In: https://www.linkedin.com/in/martystanley
Watch a short video about Marty's Consulting Services.